Discover Viewline's innovative vertical Windbreaker and enjoy the outdoors with complete peace of mind. With its crystal-clear view and optimal separation, it offers weather protection on your terrace. Discover the benefits of this pioneering product and turn your outdoor space into an oasis of comfort and style.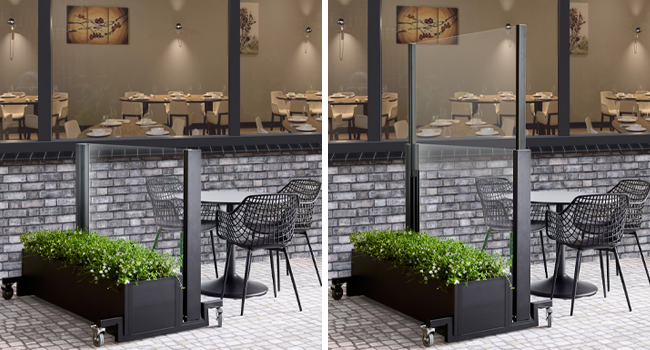 Vertical sliding technology for easy operation:
Viewline's vertical Windbreaker uses unique sliding technology. This allows you to open and close the screen effortlessly. With just one click, you raise or lower the windscreen, whatever the wind conditions. The Windshield can be ordered in anthracite, traffic white, and black.
Sturdy and durable design:
Despite its sleek appearance, this Windshield offers solid construction. The robust profiles and easy-to-mount mounting feet ensure stability even in high winds. It is made of high-quality 8-millimeter tempered safety glass. This ensures durability and safety.
Clear glass for an unobstructed view:
Thanks to the minimalist design of the windbreak, you enjoy a crystal-clear view. The slim profiles make the windbreak virtually invisible, allowing you to fully enjoy your surroundings. Don't let the wind restrict your plans and create a place where you can fully relax.

Easy Installation without Electricity:
Installation is quick and effortless. With the plug-and-play design, you can level the Windshield in no time. Thanks to the manual controls, you don't need electricity. Moreover, several windscreens can easily be linked together. The optional wheels ensure optimal operability. You can position it in any direction you want. In short: ultimate ease of use without the hassle of power connections.
Additional Options for Personalisation:
View line offers additional options to customize the Windshield to your preferences Choose from a base, wheels, and/or flower box to make it even more functional and aesthetically pleasing. The mobility of wheels and the addition of a flower box add extra versatility and atmosphere to your outdoor space. This also makes it perfect for a catering terrace.
Conclusion:
Experience the ultimate in outdoor living with Viewline's innovative vertical Windbreaker. With its crystal-clear view, simple operation, sturdy construction, and easy installation, it offers the perfect separation from the weather. The minimalist design ensures an unobstructed view and the manual operation requires no electricity. With additional options such as a base, wheels, and flower boxes, you can personalize the windbreaker to suit your needs.