Winter is a season of keeping cosy inside. Cosy by the fireplace. Enjoying each other's company. Warm and snug. In short, a season in which life often takes place indoors. At the same time, we recognise the feeling of missing 'daylight' during this season. Especially when you enjoyed your roof so much last summer… We have good news! With Viewline you can turn your roof into the perfect place to enjoy the outdoors to the fullest all year long, not just in winter, while retaining maximum views. In this blog we share our secret.
Tactically out of the wind, with room for a pleasant breeze
With Viewline you can experience the best of outdoors with the maximum comfort inside. That's why we've thought about every detail. Viewline is characterised by a unique slide-turn system. This allows you to move the glass panels separately from each other. Especially in winter, this is a pleasant option on a sunny day. This way you can sit tactically out of the wind, while there is also room for a pleasant breeze.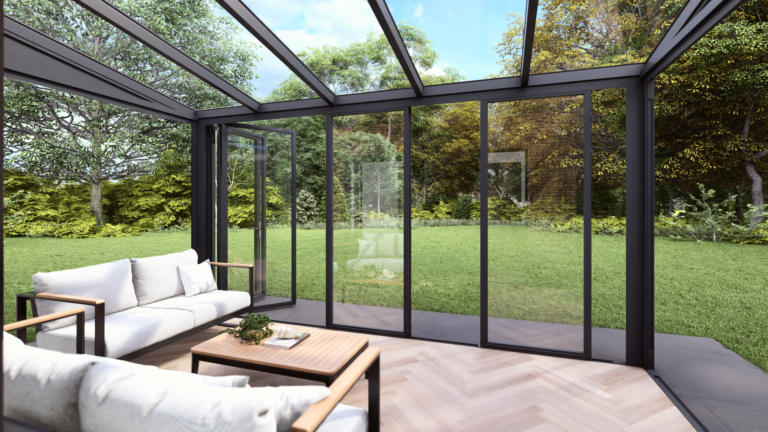 You're all set
At the same time, with closed walls, you're all set. The design is constructed in such a way that you enjoy complete protection against rain and wind. In addition, the profiles are nice and slim, so that you enjoy the best possible view. Why would you make the living room your place in the winter, if you can just do it under your roof?
Your new favorite place
Start the day with lovely quiet music, a cup of coffee or tea, while enjoying your garden. Have a drink with friends under your roof during the winter while surrounded by a clear starry sky. However you want to experience the connection with the outdoors, with Viewline you can make your new favorite place at home.
Discover how you can optimally experience the connection between indoors and outdoors with Viewline. Fill in our contact form and we will contact you shortly.